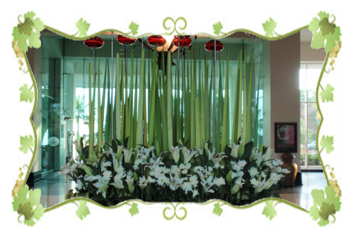 Flowers are beautiful gift to mankind by nature and they have always been a part of every culture. Their delicacy, aroma and beauty inject several moments of life in the atmosphere and ambience. And they look even more beautiful when decorated by creative mind of professionals. No one can even imagine a ceremony where flowers are missing. Can you? Of course, no one can! Whether it is simple pooja ceremony, wedding or a big corporate event, the presence of flowers makes the event more special and eye catching. Its fragrance and elegance add charm to an event. We at 'Ambrosia' believe that every moment in life is a special and we tend to make it memorable for you so when you flash back to those memories you would realize how spectacular they were.

We are an expert floral decorator for all style and specialize in arrangement like Ikebana flower arrangement, the Japanese artwork of flower arrangement etc. We create breathtaking floral arrangement ranging from simple to elaborate ones. We also offer the service of flower decoration for wedding ceremonies, social functions, and corporate events. To surprise your dear ones, we offer our service in flower bouquets and their delivery. Whether it is a hotel, home or corporate office, we deliver our service for all. For us, nothing matters more than your smile and therefore 'Ambrosia' offers its service to fit all budgets.

We know how special the ceremonies are for you. We understand your emotional bounding with your dear ones and hence, at Ambrosia, we try to create our own style, but we assure to create a unique design with client's involvement. The secret of Ambrosia's success is faithful relation that we share with our clients. We follow only two rules at Ambrosia
Ideal and unique design
Dedicated service with high standards.
We feel proud when we deliver what we promised. And we are proud today after years of experience with no foul commitment.

Our passion for creating and enhancing beauty makes us dedicated professionals. We love our job because we create beautiful memories that our clients cherish forever.
Residential Decor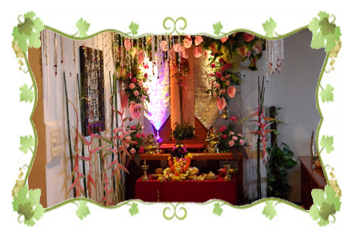 Flowers have their own charm and they meant for adding beauty to the world. The home where your world exists can be turned into a
beautiful ceremonial venue
, when decorated with flowers. We take up projects of floral decoration of
residences, for ceremonies and events at a home
. We create
beautiful and sober decorations
for holy ceremonies like
Ganesh chaturthy decoration, Mata ki Chauki, Katha, Bhajan and Jagratas
. We decorate house with special floral concepts for
house warming, parties and for welcoming guest
. With rare flowers and its beauty we create a
dazzling ambience
to make your functions more joyful.
Hospitality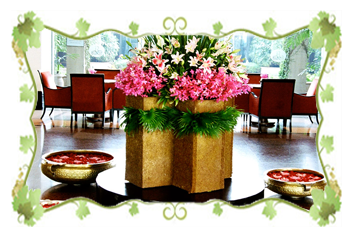 The warmth of flowers and beauty add a gracious touch to
hospitality.
We decorate the
hotel lobbies, honeymoon suites and banquet halls for weddings
, for social functions and conferences with aesthetic floral arrangements. With unique concepts of
flower arrangement
we enhance the beauty of
restaurants
and
fine dining restaurants, yacht, cruises and every other segment of hospitality
. We create a magnificent
floral arrangement
as per the need, be it simple to fancy one.
Commercial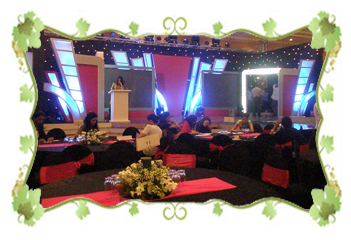 Showrooms, offices, retails, hotels, restaurants, exhibitions
or any other commercial establishment, 'Ambrosia' is the one stop solution for creating-eye catching displays. We undertake the project of set decorations for
Bollywood and Hollywood movies
. We have done set decorations for movies like
Hum Tum
,
Fashion
,
Jhootha hi sahi
and some Hollywood movies. We take the projects of commercial establishments and set the tone and atmosphere with charm of flowers to please your clients.
Banquet arrangement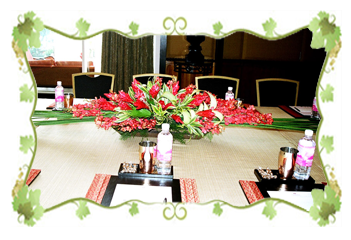 We create a graceful ambiance for
banquet hall
. Our expert decorators emblazon the atmosphere with
vibrant lofty flowers
that impart peace and joy. Be it a
sober floral decoration
for conferences or
fancy floral arrangement
of different style 'Ambrosia' does it all.
Bouquet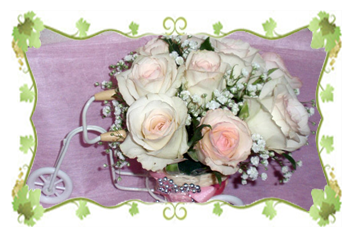 Sending warm wishes to your near and dear one is simple with us. 'Ambrosia' is well known for sending
well-decorated bouquets
with 2 days time to major cities of India and abroad. Commercial offices can send us the list of client's birthday or anniversary on the regular basis to please their client with a beautiful bouquet.